How New Relic Linked Upskilling to High Sales Performance
Sales Performance and Productivity
---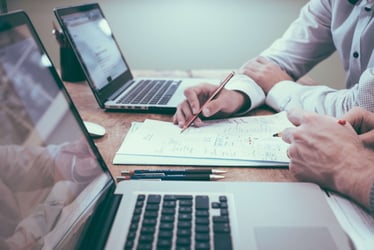 Before Tigerhall
Global Training is Not Curated to Sales

despite 83% of the workforce being in sales

Lack of Cultural Context

No sales training specific to emerging markets

Lack of Adoption in Learning

Adoption rate was only of 5-15% on learning initiatives
After Tigerhall
89% of users found Tigerhall relevant to their sales roles

12 exclusive interactions with emerging market leaders

87% adoption rate with 100% of learners asking for expanded Tigerhall access
New Relic is a U.S. tech company developing cloud-based software tracking and analyzing web and app performance. Working closely with Ben Goodman, SVP & General Manager for Asia Pacific and Japan, and Yuyi Heng, APJ Programs Lead, Tigerhall curated 12 exclusive social learning trails. The purpose of this social learning program was to raise cultural awareness amongst the different regional teams and promote different ways of doing business to ultimately drive sales growth across the various markets in the region.
New Relic was able to leverage Tigerhall's platform to to network with and gain actionable insights from external Thinkfluencers who are business rockstars in the region including Kathleen Mueller, Regional VP & Head, Midmarket Digital, SAP and Clive Elull Hawthorn, Former Regional Director, Expedia.
Key Areas of Social Learning
Driving Revenue Throughout APJ

Boosting the Number of New Paying Customers

Growth Mindset & Big Picture Thinking
Sales Excellence

Increased Productivity
Social Learning Approach:
Sales enablement is all about generating more revenue. As a highly strategic function, Tigerhall's Learning Strategists focus on building capabilities for hitting sales metrics such as gaining a thorough understanding of the sales funnel from lead gen and prospecting to negotiating contracts across different cultures and being an expert at influencing CxOs.
Employees were encouraged to leverage social learning and turn insights into actionability in their day-to-day role responsibilities. The leadership team identified real-life challenges team leads were facing each week and assigned employee cohorts content to listen to, gain insights from and put ideas and advice shared by Thinkfluencers into practice. Over a 6 month period, 100% of participants have claimed work improvement, attributing access to real world leaders as the key ingredient.
In addition, New Relic was able to link top sales performers with high Tigerhall usage. These same users were also noted to have spent a lot of additional time on other unassigned content available on the platform. The highest engagement came from talent who were changing roles or taking on greater responsibilities within their existing role and the top 20 users had APJ wide roles vs. those who focus on a single country market.
New Relic leadership sessions included:
Ben Goodman, SVP & General Manager - APJ
Suman Ram, Director Customer Solutions - Asia
Brad Perriott, Director Enterprise Sales - ANZ
Jenna Binskin, Director of Field Marketing - APAC