By Thinkfluencer: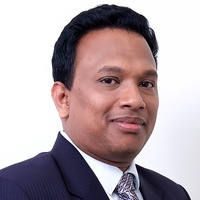 Ravikumar Bhatta
MD
Accenture
Sales in Tech: Get That Cheque for Your Tech
When it comes to Technology sales, customized solutioning is everything. This means that as a salesperson, you need to get creative about how you connect your technical solution to your customer's needs and articulate how it will help their business. How do you structure your deals to set yourself up for success? Ravikumar Bhatta, Managing Director of Accenture, walks you through every step of the process. From finding the right clients and customising sales strategy, to building relationships and creatively presenting your proposal, he shows you how to close deals and cut through the noise.
GAIN ACTIONABLE INSIGHTS TO:
Create Relationship Maps to identify key stakeholders before you make a sale
Factors to consider for crafting a winning sales strategy
Use storytelling to create an immersive sales experience for your customer
Laying the Groundwork
With technology advancing every day, digital transformation is rightfully on everyone's mind. It's certainly an exciting time, especially if you're selling these technology solutions to businesses who need them. To succeed as a salesperson today, you'll need to have a deep understanding of the technology you're offering and the impact it will make. You also need to be able to connect this technology with your customer's needs in a relevant way. While new, shiny technology may be great to admire from afar, people will only pay for something that can provide value and help them solve a problem. 
Technology Sales, unlike traditional sales, is solution driven. This means that you need to tailor-make a technical solution to each customer. Since no two businesses are alike, each project you work on will be unique. Your job is to identify the most impactful solution for your customer, and at the right price point. The technical solution you propose could be any unique combination of hardware (such as servers, storage, networks), software (such as operating systems, programming languages, commercial off-the-shelf products) and services (such as applications, analytics, Cloud services).
As technology solutions become increasingly complex and involve multiple integration points, you should be working with an ecosystem of partners to support your solution. Partner ecosystems could be specific solution partners, COTS vendors, hardware partners, and so on. When they come together, a partner ecosystem will help in creating powerful, relevant solutions for your customers. So as much as you invest time into your clients, you should also be focusing on deepening relationships with your partners. At the end of the day, you'll be consulting closely with them on solutions that you propose to your customers. 
Finding the Right Fit: A Qualification Checklist
Before you even approach a potential customer, ask yourself if they're the right fit for the technology you're able to offer. I'd recommend consulting with your teams to create a Qualification Checklist if you don't have one already. This simple tool will make sure your company is investing time, effort, and focus on the right deals with the right clients. 
A Qualification Checklist would cover three broad categories: your company's ability to deliver, ability to win, and willingness to pursue the deal. Here are some factors you should look out for. 
Willingness to Pursue:
Is the client a key player in their industry?
Is the deal profitable?
Is this the right deal in which to invest your company's efforts?
Do you have insights into this client or any existing relationships with them?
Ability to Win:
Do you have the right sales team? 
Do you have the right solution team?
Are you able to position and price your solution competitively? 
Can you deliver an impactful and immersive experience during the sales process?
Ability to Deliver:
Can you assign the right teams to the task?
Can the teams deliver what was sold?
Can it be delivered on time, on budget with highest levels of Quality?
What's your track record in delivering similar solutions?
Go through this checklist in detail and make sure that your potential client is a good fit for your company and the solutions you're able to offer. 
Understand Your Client's Expectations
Bear in mind that there are other factors that play a role in the dynamics of the deal, and can impact your sales approach or strategy. Nowadays, clients expect service providers to be quite flexible and innovative with financial models for projects. This is to ensure that business case is met and you are providing the right value for what they are paying. A revenue share model is a good example of different financial models that your client might expect. 
This ties to another expectation that your potential client may have: Is the service provider putting the  "skin in the game"? They want you to truly commit to the project outcomes. Are you able to assure your client that you can commit to timelines, meet Service Level Agreements, ensure high quality of deliverables? 
As a service provider, you should make innovation theme central to the solution you provide to your client. Your client will expect you to drive innovation at scale and speed. They want to know that you understand their business and how technology can make things better. Take a consultative approach and drive the initiative to make a strong impression. 
In the digital age you'll find that increasingly, non-traditional players are emerging as competition. While they don't have the size or scale of a traditional service provider, they're usually able to deliver at lower prices and a faster pace. This could be a serious threat. Are you able to make your company's value proposition clear to your clients, while positioning yourself competitively with these non-traditional players? Factor this into your sales approach. 
Once you've found the right clients and understand the overall sales approach you'll need to apply, it's time to put together a winning deal. 
Crafting a Winning Sales Strategy
First, immerse yourself in your customer's world. What are their goals? Why are they doing this project? What are the outcomes of this project?  In most cases, you'll find that businesses want to use technology specifically to boost operational efficiency or drive growth. So to make your case, you'll need to understand how your customer is running their business and in what direction the business is moving. Do your research into the challenges that your customer is up against. What are their pain points? 
Once you've looked into the details, zoom out and look at the big picture. Look at the industry trends for your customer's business. How can you help them innovate and stand out? When you truly understand the business environment your customer is situated in, you'll be in a better position to understand which combination of solutions can add most value to them. 
Strategy Framework
An impactful sales strategy should incorporate your insight and research into a framework, which will in turn help you articulate this clearly to your client. Here's a good structure for a sales strategy.
Critical Client Insights and Deal Context
Why does your client need this project?
Do they have the right budgets approved?
Are key decision makers involved in the process?
Competition Strategy and Positioning
Who are your competitors in this bid?
What is are your SWOTs (Strengths, Weakness, Opportunities, Threats)?
How does the client perceive you against the competition?
Solution and Value Differentiation
What are your key solution components and are they aligned with your client's expectations?
How can you differentiate your solution?
How can you quantify the value of your differentiation?
Price to Win
How much is your client willing to pay for this project?
Is your client open to different commercial models?
How much of an investment is your company willing to make for this project, and would it be a strategic win for you? 
Timelines
How time-critical is the deal for your client?
How long do you expect the pursuit to run?
How will any delays in decision making impact your pricing? 
Craft a sales strategy based on your responses to the questions listed above. Be sure to coordinate with the relevant in-house teams and partner ecosystems to ensure that you're able to deliver the solutions you have envisioned.
Building Relationships 
With this insight, your next step is to reach out to your customers even before you make your pitch. Who are the key stakeholders involved in the decision-making process? Start creating the high-level visual representation of client organization and understand the decision makers, influencers, Approvers Coaches and their view of your organization along with social styles. These are "Relationship maps" and they will help in determining where to focus the relationship efforts and how to navigate and leverage relationships with the client organization. Try to build relationships based on this structure to understand first-hand what their priorities and needs are. 
Relationship maps will also give you a better sense of how you can structure your deal without hitting any major roadblocks along the approval process. You'll be have to customise solutions to address the stakeholders' concerns. Keep in mind that different stakeholders will have different key buyer values and your solution should address all of them. For example, a procurement person will want to secure a deal at the best price, while a business stakeholder will be analysing whether your solution addresses their business objectives.
Making the Sale
The final step is to build a view of what your customer's business would look like once your solution is implemented. Tell a story and really bring this vision to life. Nowadays, people want sales pitches to be "experiences" that stand out. This is your time to get creative – you could use prototyping, visual demonstrations, or customised storytelling. For example, if the solution involves an online e-commerce portal, create an immersive experience from a customer's point of view. Use demos or role playing to explain the various steps involved in the business process, and present this to your client. Work with your Internal Innovation framework or partner companies to brainstorm on how you can make this experience as engaging as possible. Make sure to brief both IT and business teams on your approach. 
You should also focus on why your solution is different from the others out there, and any value that working with you would create. This could include scalability, flexibility, better customer experience, better user adoption and any other value that your product can offer. 
With sales, it comes down to numbers. While qualitative value-adds are impressive, expressing how this would translate to financial benefits is key to cinching the deal. Are you able to make a case for the overall cost of the project with a sizeable return on investment over time? If your customer has discussed specific expectations with you, reiterate them now. These could include any discussions you have had about the terms of investment, financial models, or payment options. 
Steps to Take in 24 Hours
1. Find the Right Customer
Don't waste your time pursuing clients who aren't the right fit for the solutions you have to offer. Make sure you are able to add value to their business, and at the scale that is required. Also make sure the deal is worth your company's efforts and resources. 
2. Understand the Customer's Needs
Do detailed research to understand your customer's challenges. Look at the details of their operations, gaps in efficiency, potential for growth. Look also at the big picture to understand how they're comparing to the rest of the industry. In which areas of their business could they innovate and transform?
3. Make a Relationship Map
Strategic relationships can be crucial to closing a deal. Before you make your pitch, create a Relationship Map that will help you identify key decision makers, their levels of influence, and the relationships between them. As a best practice, reach out and make a connection before you start pursuing them.