Welcome to the End
By Karen Chong - Director of Learning Strategy, Tigerhall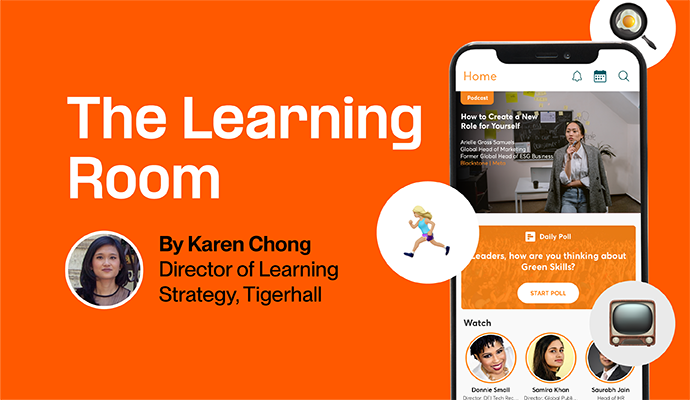 Hello there. I am Karen, and I lead Learning Design & Strategy at Tigerhall. The Learning Room at Tigerhall shares our take on business strategy through the lens of learning behaviors and mindsets. We hope you'll join us for the ride.
We have finally arrived at the end of 2022, and what a ride. Instead of expected stability from the winding down of Covid-19 protocols, we have been rocked by immense political and financial forces. A Russo-Ukrainian War that sparked a global humanitarian plus supply chain crisis, a revolving door of PMs through 10 Downing Street, ricocheting stock markets and rocketing inflation surges - we've seen them all in the span of a year.
With the threat of carrying into the new year with doom and gloom, I asked myself a few questions to understand what exactly I have gained and achieved this year:
What were the biggest things that happened to me this year (both good and bad)?
Which of these were within my control?
Which of these were not within my control?
Would I have changed my response to those things within my control?
What can I do when things are not within my control?
And as I look back on all of this, comes the simple realization - We can choose to be prepared for nothing, or we can choose to be prepared for anything.
By asking yourself the same questions I did, you will likely realize that many things were beyond your control. We can't control when dictators choose to launch wars, or when an organization chooses to lay off its people (a la Elon Musk). Closer to home, many things remain out of your control - will your job become irrelevant in the next five years? Are your industry's barriers to entry lowering for new competitors?
You probably can't stop these from happening. But you can be prepared for their eventuality with a mindset ready for change and growth. Glenn Caton, SVP, Global Sales COE at Mondelez, says it takes humility and curiosity; humility to admit that you can't know about and control all the factors that impact your life, curiosity for the desire to find out more about what you don't know to be better prepared for the unexpected.
So while we can't offer you blind optimism for 2023, we can offer you a meaningful period of preparation and reflection as we step hopefully into the new year.
Tigerhall's End-of-Year Reflection Zone
Livestream of the Month
How to Reflect on the Year Gone by, 13 Dec 2022 by Kathleen Muller - Regional VP & Head of Digital Sales, SAP
Podcast of the Month
How to Create a New Role for Yourself by Arielle Gross Samuels - Global Head of Marketing | Former Global Head of ESG Business, Blackstone | Meta
Video of the Month
How to Start Your Career After a Global Crisis by Alfee Lee - Head of Delivery, Fujitsu