The Power of Social Learning: A Candid Chat with Danielle and Nellie Wartoft
---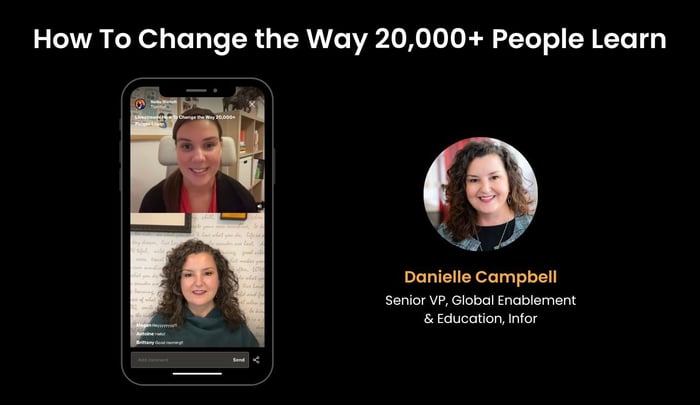 In our fast-paced world, where technology keeps evolving at breakneck speed, learning and development in organizations are more crucial than ever. Today, we're going to take a sneak peek into an engaging conversation between Danielle Campbell, a trailblazer at the tech company, Infor where she is the Senior Vice President, Global Enablement & Education, and Nellie Wartoft, the dynamic CEO of Tigerhall, a social learning platform. They discuss the power of social learning, the importance of diverse content, and the role of platforms like TikTok and Instagram in today's learning landscape. Let's roll!
The Task: Transforming Learning for the Organization
When Danielle jumped into her company, she was tasked with a mission: revamping learning to support customer education, partner workforce, and internal employees. The goal? To find a way to go faster and streamline communication in a content-rich company. She dreamed of creating a "destination learning experience" for her organization, akin to how Trailhead has become the go-to learning platform for Salesforce users. It's like turning learning into a thrilling amusement park ride!
"As a company of nearly 20,000 employees, we're constantly inundated with information. I was searching for a "destination learning experience" like Salesforce Trailhead, and I wondered how we could create a similar experience for Infor software or transformation opportunities. That's when it struck me - Tigerhall could be that go-to resource!" - Danielle Campbell, Infor
The Decision-Making Process
In their search for a learning management system, Danielle's company went through a thorough decision-making process, guided by an economic thinking framework. The goal was to create value for their users while making the best economic decisions for the company. They ultimately chose a hybrid approach, using Tigerhall for internal enablement and a separate learning management system for technical training and revenue management.
"We were evaluating an LMS replacement and aiming to consolidate various systems, from sales enablement platforms to customer learning and our own learning management. Eventually, we adopted a hybrid approach, using our traditional LMS for technical training and Tigerhall for internal enablement." - Danielle Campbell, Infor
Why Social Learning and Tigerhall?
Danielle was drawn to Tigerhall like a moth to a flame, all thanks to its engaging social learning format and the treasure trove of content already on the platform. The curated trails, influencer-style content, and focus on professional skills made Tigerhall the perfect partner for Infor.
"One of the biggest factors for me was the existing content on the platform. The power of the thinkfluencers, curated trails, and the increasing focus on professional skills like crucial conversations, sales enablement content, and CEO-level conversations from people in the field actually doing it, made partnering with Tigerhall incredibly appealing. The combination of real-world expertise and the overall user experience was the major draw." - Danielle Campbell, Infor
The Impact of Social Media on Learning
The conversation also explored the blossoming popularity of educational content on social media platforms like TikTok, Instagram, and Twitter. These platforms have morphed into valuable learning resources for users across the globe. Danielle appreciated the video content and experience-sharing nature of platforms like Instagram, which can offer inspiration and learning opportunities wrapped in a visually captivating package.
The Importance of Varied Content
Both Danielle and Nellie emphasized the importance of offering varied content to cater to different learning preferences. While video content can be highly engaging, it's also essential to provide other formats like articles, podcasts, and hands-on learning experiences. The key is to create a well-rounded learning experience that can benefit a wide range of learners.
The conversation between Danielle and Nellie highlights the growing importance of social learning and the role platforms like Tigerhall play in modern learning and development initiatives. As technology continues to evolve, organizations must adapt and embrace new ways of learning to stay ahead of the curve and ensure the success of their workforce. So, let's keep learning, keep growing, and keep having fun along the way!