Focus on the ESG Talent Gap
---
Written by
Karen Chong - Director of Learning Strategy, Tigerhall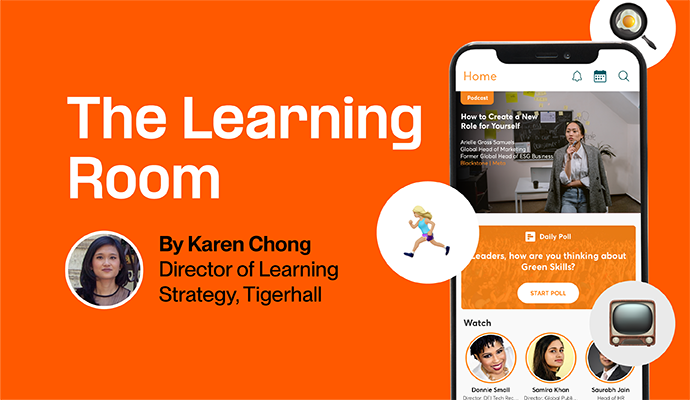 Hello there. I am Karen, and I lead Learning Design & Strategy at Tigerhall. As the lead writer and editor of The Learning Room at Tigerhall, I will be sharing our take on business strategy through the lens of learning behaviors and mindsets. We hope you'll join us for the ride.
Focus on the Controllables when it Comes to ESG
In the past week or so, I have been doing a large amount of reading on ESG. And the more I read, the less I seem to understand about ESG. Some key changes that we can expect
Overview of reporting standards in the US and European markets
Increased scrutiny from consumers when business make claims about sustainable products and services
Increased scrutiny from investors and shareholders who want more transparency in reporting, bottom line and top line
Talent gap in the sustainability space as well as increasingly pickier talent pools
While it is a largely turbulent time for all industries and businesses in general, treading in ESG can seem like even murkier waters.
What can you do about this?
Looking at the list of observations, many of these changes seem beyond our control as individuals, especially when the opposing stakeholders are large entities like shareholders or governments. However, there is one thing we can do something about, which is talent, or the talent gap, specifically.
Upskilling in ESG, and being able to navigate ESG waters, even if it may not seem like a top priority now for your role or your business, means you will likely become more valuable as a human resource. If you're leading a team, a department, or an organization, bridging the gap right now should be one of your next actions. Additionally, if you're in APAC, you might feel a greater sense of urgency - market research has shown that APAC markets greatly lag their US and European counterparts when it comes to experienced ESG talent. This means lost business opportunities, job roles and money, not because of market factors, but because of a lack of talent investment.
ESG Podcasts Recommendations