ESG and the Bottom Line
By Karen Chong - Director of Learning Strategy, Tigerhall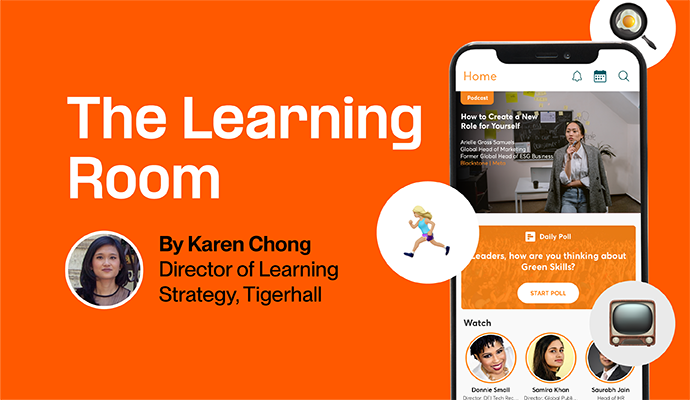 Hello there. I am Karen, and I lead Learning Design & Strategy at Tigerhall. Starting this month, The Learning Room at Tigerhall will be sharing our take on business strategy through the lens of learning behaviors and mindsets. We hope you'll join us for the ride.
I saw this headline recently on Fortune magazine while traveling, and it ran like this; Banks and business leaders who use ESG aren't 'woke.' They're protecting their bottom lines.
It sounds mildly denigrating, and the entire article had something to do with sustainable funds and investment, which I am not an expert on. (Although I must preface that I am not an expert at many things.) Nevertheless, that headline rings true - ESG is good for the business, and it's not necessarily a bad thing.
If companies implemented sustainable practices to be "woke", ESG efforts would not be long-term since this is a short-sighted mindset following a fad - makes great PR, makes employees feel good and the bosses look good but … usually they don't take off. Take Mattel. The toy giant initiated the Playback program to recover old products to be recycled, only to discover that all that shipping and transportation led to increased CO2 emissions, creating counterproductive outcomes.
On the other hand, if organizations incorporated ESG into business strategy, and are able to project future revenue streams from this and actually make some money, ESG business practices would be impactful. You would see
More job opportunities in sustainability or governance departments (or newly opened sustainability verticals)
More products in the marketplace
New enterprises, start-ups being built
According to Samira Khan, Director of Global Public Affairs at Microsoft, communities and stakeholders are increasingly expecting businesses to be a force for good. Whether businesses can leverage that remains to be seen.
Tigerhall's Month of Sustainability
Livestream of the Month
How to Avoid Greenwashing, 23 Nov 2022 10am GMT by Hannah Cool - Director of ESG Transformation, PwC
Podcast of the Month
Environmental Case Study: The US Retailer Going Plastic Neutral by Danielle Jezienicki - Senior Director, Sustainability, Grove Collaborative
Video of the Month
Why ESG isn't Enough by Samira Khan - Director, Global Public Affairs, Microsoft