2023 Corporate Development Trends
---
Written by
Karen Chong - Director of Learning Strategy, Tigerhall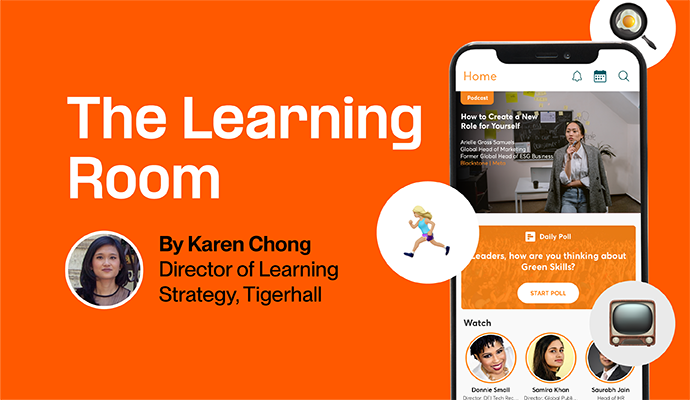 Hello there. I am Karen, and I lead Learning Design & Strategy at Tigerhall. As the lead writer and editor of The Learning Room at Tigerhall, I will be sharing our take on business strategy through the lens of learning behaviors and mindsets. We hope you'll join us for the ride.
Very quickly, and without warning, we have charged into the new year.
It is fairly common to begin with resolutions and self-promises. Many of you have started on a new fitness regime or diet. You have a list of goals to accomplish in the next 12 months. On the flipside, many of us are struggling because of the incredible amount of noise that just exists - news of a tech winter with layoffs right around the holidays, stagflation/inflation and the constant chatter of an impending recession (if we are not already in one). All those 2023 corporate top trends lists (learning trends, stock markets, crypto etc.) are likely not helping your mental health either.
On this note, let's try taking a step back from all the noise and trends and ask ourselves: What will we care about this year, whether in our work or in our own personal spheres? When we actually care about something, that's not a trend such as a diet or investment fad, we are likely to stick to a plan that helps us achieve that goal.
Let's look at a use case. Kerry decides she will be more productive in 2023 since everyone is talking about it at work. She tries to do more with the time that she has, taking on more tasks and responsibilities. But does Kerry want to actually be a worker with more output, or does she actually care more about growing as a high-performer? Remember:
More Output (Perceived Productivity) ≠ High Performance
Understanding what you truly care about helps you pursue the path with the right approach. In Kerry's case, misconstruing what she truly cared about led to burnout in the year instead.
After defining what we care about, we need some concrete steps to take action. Nir Eyal, best selling author of Hooked and Indistractable, talks about the concept of** planned spontaneity**. To apply, simply block off some time in your calendar, where you will not be distracted by other tasks. That time is set aside for you to be spontaneous yet focussed on what you care about. It could be reading an article, reaching out to a potential mentor or listening to a podcast. The spontaneity keeps your pursuit refreshing and fun, while the timeboxed aspect keeps you focussed on the goal.
Here at Tigerhall, we wish you a year focussed on the things that you care about, and that truly matter to you.
Tigerhall's 2023 Reflection Zone
Livestream of the Month
Setting Up for Success in 2023 by Radha Amalraj - Head of Global Business Partnerships, Meta
Podcast of the Month
Being Intentional as a Leader by Anna Green - Head of SMB, Asia Pacific and Japan, Amazon Web Services (AWS)
Video of the Month
Planned Spontaneity: Being Intentional About Fun by Nir Eyal - Best-Selling Author